Ramblings of a Maniacal Frenetic: Pragmatic Reflections on Helping Patients Understand Their Illnesses and Treatments
by John Parks Trowbridge, MD, FACAM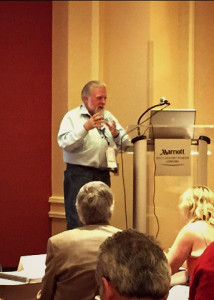 My father told me, in early 1979, that he was going to see a doctor about doing chelation therapy. I went only slightly berserk, insisting that I would have heard about it in my training or residency if it had any value for cardiovascular diseases. He "wisely" stayed away from that charlatan. Then my mother needed drastic surgery for a bleeding ulcer in the fall of 1982. As I needed to fill my days while seeing her in San Francisco, I visited the office of Robert Haskell, MD. We discussed nutritional medicine and dietary programs … and then he asked, "Well, you do chelation therapy, of course?" I explained my reservation about doing any treatments that were exaggerated in their claims of helping … especially with a wide variety of illnesses. He said simply: "Come with me." We climbed up one flight of stairs. "Here," he said, "is my nurse. And my charts. And my patients. Have a good day." And what a day it was! I could barely believe the documented results of patients who had barely been able to walk due to shortness of breath or chest pains or calf pains. And I got to hear their stunning stories, in person – and to lay my hands on their bodies. I was hooked. I spent the next five months studying everything that I could find on chelation, so that I would "ace" the written exam. At the training, I met Warren Levin, MD, of New York City, clearly the best lecturer at the meeting. I spent two glorious learning days in his office; the same for Milan Packovich, MD, of Pittsburgh; also for Charles Farr, PhD, MD, of Oklahoma City; and for another eight doctors who generously offered to share their best ideas with me, so that I could strive from the start "to be the best." H. Ray Evers, MD, of Dothan, Alabama, graciously hosted me for three days to see the best of the past. And thus began my saga, to "learn more and do better than anyone else." At the very least, each of my parents and I myself benefited greatly.
Pump, Pipes, and Performance
Cardiovascular diseases (CVD), in order to be adequately evaluated and treated, need to be classified according to the likely etiology or explanation. Simply stated, CVD are associated with the pump (the heart), the pipes (arteries of whatever size and location), and performance (impaired function despite adequate anatomy). One last classification – pediatric – will be ignored for this article, since congenital heart diseases, as genetic or developmental irregularities, have their own unique considerations. When the "pipes" involve the venous system, such as with thrombophlebitis, this is treated as a special case of inflammation.
Hey, Buddy, Can You Really Treat That?
If we have incomplete or missing diagnoses, should you proceed with treatment? In fact, that complaint has been leveled at chelation therapists for years, that we fail to do "enough" diagnostic workup. If you want the details of your problem delineated down to the molecular level, go to your local university cardiologist. But if you want to feel better now and get on with your life, why not consider a treatment that works for most heart and blood vessel problems (and those of many other systems) that plague most people? Problems that don't improve can continue to be evaluated. The only heart problems that don't reliably show desired improvement are pediatric, because of their distorted anatomic features. The only peripheral (or central) blood vessel problems that don't show expected improvement are ….. sorry, can't recall any.
What Do People Really Need to Know?
For the most part, medical explanations use technical terms that confuse or oversimplifications that mislead. Using the framework presented here, concepts can easily be offered that lead patients into a fair understanding of the treatments proposed and what to expect. (Much of "doctoring" is teaching, which improves compliance dramatically.)