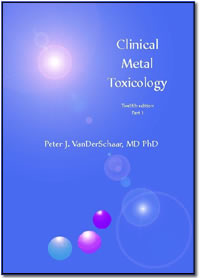 Dr. VanDerSchaar has just finished the twelfth edition of the Textbook "Clinical Metal Toxicology"
(600 + pages) It is available right now. The cost is 100 Euro, postage excluded.
Many new items were added and chapters were revised and updated with the most recent data.
It is required reading for the C/CMT and FCMT examinations.
For those who are interested, please contact
Dr. VanDerSchaar at: pjvanderschaar@gmail.com